There have been at least five incidents of wrong-way driving in Lansing since last September. Between 2005 and 2013, there were three.
Early this morning, a drunk driver was stopped on I-96 near the Saginaw Highway exit in Delta Township. She was driving westbound in the eastbound lanes, and had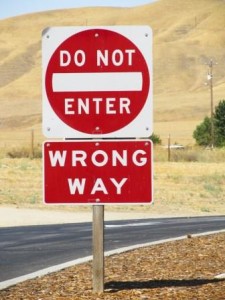 been driving in wrong direction for some time, also having driven in the wrong direction on I-496 before merging to I-96. Thankfully, nobody was injured. This is yet another wrong-way driving incident in the Greater Lansing area, which begs the question: what's going on?
In mid-February, a wrong-way driver on US-127 near Trowbridge Road caused a number of car accidents along a stretch that most of us in the Lansing/East Lansing area are quite familiar with; many of us drive through it as we travel day in and day out. Unfortunately, the drivers of two of the cars involved lost their lives: the wrong way driver and one of the drivers who happened to be in his path. At this time, it's not clear whether drugs or alcohol might have played a factor.
As reported by the Lansing State Journal , the most recent incident on US-127 was the fourth such event in the same number of months. Is it the design of the infrastructure that's confusing drivers, leading to these collisions, specifically in that stretch of US -127? That might be something to consider . . . except that before this recent series of crashes, the earlier incidents of this sort took place in September 2013, in 2009, and in October 2005. No significant changes to the structure of this stretch had been made between October 2005 and February 2015, so it doesn't appear as though the infrastructure is to blame.
Alcohol seems to be a common factor in at least two of the more recent US-127 crashes (and in today's Delta Township incident), but as mentioned before, it hasn't been determined whether it was a factor in the February collision. By now, we all know (or, hopefully should know) the dangers associated with drinking and driving. Not only do drunk drivers place themselves at risk, but they endanger the lives of others who happen to be sharing the road with them. There are a number of alternatives to drunk driving. There are taxi services throughout the area. Or, if you'll be out with friends, plan ahead and choose someone you trust to be a designated driver. As adults, we are all aware of the dangers and consequences that may result if you choose to drink while intoxicated or otherwise impaired. There's simply no excuse for engaging in such risky, selfish behavior.
In addition to alcohol and/or drug use, could distracted driving have played a role in some of these recent tragedies? Driving while impaired is one thing, but factoring in other distractors, such as texting while driving, fiddling with music or other controls in the vehicle, or even the presence of other passengers could also make matters worse.
Should law enforcement officers start patrolling the more problematic stretches of US-127 (and potentially I-96 and I-496), or parking along the side of the road closer to where traffic enters and exits the highways? Maybe with more law enforcement officers keeping watch over the highways, especially late at night, wrong-way drivers can be pulled over more quickly, preventing tragic accidents and further loss of life.
What do you think is causing the recent uptick in the number of wrong–way drivers? Share your thoughts by leaving a comment.