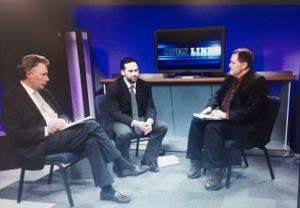 Lansing auto accident attorney Stephen Sinas discussed the current state of Michigan's no-fault insurance system on the August 10, 2017, edition of "Open Line," a live television call-in program.
Stephen is a leading authority on Michigan no-fault law. He also serves as legal counsel for the Coalition Protecting Auto No-Fault (CPAN) and teaches a class on auto no-fault at Michigan State University College of Law. Stephen appeared on "Open Line" alongside Kevin Clinton, executive director of the Michigan Catastrophic Claims Association.
At the beginning of the program, Stephen outlined the purpose and intent of the No-Fault Act. "A lot of people have strong opinions about our no-fault system," said Stephen, a partner at the Sinas Dramis Law Firm. "I think it's essential for everyone to understand how no-fault works."
Stephen explained that, before no-fault, auto accidents in Michigan were handled through the tort law system. In other words, persons injured in car accidents had to file a lawsuit against the at-fault driver for all the damages they suffered, including medical expenses, work-loss payments, household chores and replacement services, and any damages for non-economic loss, like pain and suffering.
However, auto accidents were happening so frequently in Michigan that it was becoming a public health crisis, Stephen observed. In addition, because the issue of fault had to be litigated in the courts, Stephen pointed out that car crash victims were not promptly getting the treatment and rehabilitation they needed to recover from their injuries, and medical providers were not timely being paid for their services.
In 1973, the No-Fault Act was implemented in Michigan, Stephen explained. He noted that, no matter who was at fault for the accident, the person's own no-fault insurer pays their personal injury protection (PIP) benefits. These no-fault PIP benefits include medical expenses, loss of income for three years and household services for three years.
But according to Stephen, what makes Michigan's no-fault law so unique is the definition of "medical expenses." Basically, an auto insurer has to pay for services that are "reasonably necessary" for a car accident victim's care, rehabilitation and recovery for as long as needed, including a lifetime.
During the hour-long "Open Line" program, Stephen addressed numerous other issues surrounding the no-fault system, including:
The entire "Open Line" program can be viewed here.
If you've been injured in a motor vehicle collision, the Sinas Dramis team of lawyers will make sure you get the insurance benefits and compensation that you deserve. Contact our Lansing auto accident lawyers or Grand Rapids car accident attorneys today for a free consultation.
[button url="https://sinasdramis.com/contact-sinas-dramis-law-firm" class="button" size="small" color="cool-blue" target="_self" lightbox_content="" lightbox_description=""] Free Consultation [/button]