"Nathan's Law" would add a provision to the Michigan driver's education that would recognize the increasing importance of being aware of bicycles and motorcycles traveling on Michigan roads.
Recently, Sinas Dramis attorney Bryan Waldman was interviewed about the state of bicycle advocacy in Michigan, including the passage of a bill that would add information to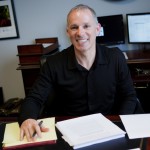 the
Michigan driver's education curriculum. "Nathan's Law," which seeks to add a provision to the driver's education curriculum requiring that information about the laws that apply to bicycles and motorcycles and how they operate on Michigan roads be included. The legislation, co-sponsored by 90 out of 110 state representatives, was passed unanimously and now awaits consideration by the Michigan senate. In addition to this legislation, Bryan also discussed other Michigan bicycle advocacy efforts and why he is so passionate about the subject. The interview, originally posted here, has been reproduced below.
---
Bob: Bryan, tell me about the legislation that just passed the Michigan House. What's the idea behind the legislation? What does it do? Why was it introduced? And who was behind the legislation?
Bryan: The bill amends MCL 256.657, which defines the curriculum required for teen driver training. The proposed change to the law would simply add a provision stating, "Classroom instruction shall include information concerning the laws pertaining to bicycles and motorcycles and shall emphasize awareness of their operation on the streets, roads, and highways of this state." The legislation recognizes that there are far too many catastrophic collisions between automobiles and bicycles or motorcycles. The legislation is known as "Nathan's Law," and is named after Nathan Bower, a 19-year old who died in an automobile/motorcycle crash. The bill was introduced by his State Representative, Terry Brown. It had overwhelming support in the Michigan House. It was co-sponsored by 90 out of 110 State Representatives and passed unanimously.
Bob: If this law passes, will there be questions on bicycle laws on the Michigan driver's exam?
Bryan: If the legislation passes the Senate in its current form, and is signed by the Governor, it will have no requirement that prospective drivers be tested on bicycle laws. It also has no requirement regarding the amount of time that must be spent on bicycle laws in the classroom or even the content that needs to be covered. Advocacy groups are hopeful that these issues can be successfully addressed by the Michigan Secretary of State, who currently has the responsibility to oversee driver's education, when, and if, the bill becomes law.
Bob: What do you think is significant about this bill? Why is this legislation important? How would this legislation affect bicycle safety in Michigan?
Bryan: I do believe that this legislation is important and will make a difference. While the specifics of the curriculum regarding bicycle laws and driver's education classes are not yet  defined, at a minimum, we have to assume that prospective drivers will be taught that cyclists have a right to use Michigan roads. I believe that the mere fact that an authoritative government entity will be instructing motorists that bicycles have an absolute right to use Michigan's roads and that motorists have an obligation to share those roads with bicyclists is a huge step in the right direction.
Bob: Have you had any bicycle accident cases that you feel would not have happened if there had been a bicycle law component in the driver's education in Michigan?
Bryan: Most of the cases I have handled involving bicyclists injured by motorists involve drivers who may have been looking for a car, but were not necessarily paying attention, or looking out, for a cyclist, or even a motorcycle or pedestrian. There is no way to know if these drivers would have made a conscious effort to look for cyclists if they had been provided with this training as part of this driver's education curriculum. However, I would like to believe that at least some of these motorists would have been more aware of the likelihood of cyclists using Michigan roads and more attentive, if they had been provided with this information as part of driver's training.
Bob: That awareness is very important, and has been shown to result in increased safety for everybody when more cyclists take to the road. So I think there's a lot of potential for increasing road safety by improving driver's education. And in fact, this is a major factor in making the roads safer in bicycle-friendly countries like the Netherlands. Do you know of any other states that have included bicycle law in their driver's education?
Bryan: There are a number of states that have passed laws requiring the bicycle laws and the responsibility of motorists with regard to pedestrians and bicyclists into their driver's education curriculum. Some have even done so with very specific requirements. For example, Louisiana requires a summary of its "3-foot bicycle passing law" in any instructional publication for drivers. Minnesota requires instruction on duties of a driver when encountering a bicycle. Washington is another State that has passed a law that requires bicycle and pedestrian safety information to be included in its driver's education curriculum.
Bob: What do you think the chances are for getting this legislation passed? Do you have any predictions?
Bryan: I believe the legislation will ultimately become law. Our legislature is currently in recess. When they return in September, I do not anticipate that this will be one of their legislative priorities and therefore, it may take some time before it gets attention or a vote in the Senate. However, given the popularity of the bill in the House, and the fact it is one of the few pieces of legislation that has bipartisan support, I believe it will get attention in the Senate. I also believe the legislation will be supported by Michigan Governor Rick Snyder, who has been a proponent of cycling in Michigan, including a plan for a 600-mile bicycle trail from Detroit through the Upper Peninsula, to the Wisconsin border.
Bob: How strong is the interest within state government for making Michigan even more bicycle-friendly?
Bryan: Unfortunately, I do not believe making Michigan more bicycle-friendly is necessarily a legislative priority. However, it is one of the few areas that has bipartisan support and for this reason, I believe there is a potential for progress. Michigan legislative representatives recognize that by making Michigan more bicycle-friendly, they can have a positive impact on Michigan's economy and enhance the quality of life for Michigan citizens.
Bob: What about the bicycle advocacy groups? What organizations are working within Michigan, either at the state level, or the local level? What are they working on? And how successful have they been in realizing their goals?
Bryan: The League of Michigan Bicyclists is an amazing organization. It is quite remarkable to see everything this organization does with a small staff that relies largely on the work of volunteers. For years, it seemed as though the efforts of the League of Michigan Bicyclists to pass legislation to make Michigan more bicycle- friendly fell on deaf ears. However, in January 2014, the Governor signed a law giving bicyclists an option to signal a right turn by extending their right arm horizontally. This seemed like a fairly insignificant change in the law, but I believe it allowed many state politicians to understand that by supporting bicycle-friendly legislation, they could take a position on issues that were not politically charged, are supported by most of their constituents, and are beneficial to the citizens of our state. As a result, the League of Michigan Bicyclists is currently working on numerous bills, including the driver's education legislation we discussed earlier, as well as a "5-foot bicycle passing law," and a vulnerable roadway user law which would provide for enhanced penalties for drivers who injure or kill vulnerable roadway users, including bicyclists and pedestrians.
Bob: That's interesting. These legislative proposals have the potential to help place Michigan squarely in the forefront of keeping our roads safe for cyclists. Of course, getting legislation passed isn't always easy, and enforcement is the key to making legislation work once it is passed. I hope you will keep us up to date on these bills. Are you involved in Michigan bicycling advocacy?
Bryan: A great percentage of my time is spent on what I would consider to be "bicycle advocacy." I am involved in many things that people would consider formal bicycle advocacy, such as assisting the League of Michigan Bicyclists with drafting and promoting bicycle-friendly legislation, and analyzing legislation that is potentially harmful for bicyclists. However, I also consider every case where I represent a cyclist to be part of bicycle advocacy. I also speak to organizations and groups about bicycle law, which is also an important component of bicycle advocacy.
Bob: How did you get interested in bicycle advocacy?
Bryan: I started riding bikes at about the same time I became a lawyer. I connected with groups and clubs in the Detroit Metropolitan Area and simply by being a personal injury lawyer, being a cyclist, and knowing cyclists, I began to represent a number of people who were, unfortunately, involved in bicycle accidents. As my reputation as a trial lawyer grew and I got to know more cyclists, my bicycle law practice continued to grow. However, I didn't become truly involved in bicycle advocacy until I met John Lindenmayer, the Advocacy and Policy Director at the League of Michigan Bicyclists.
John was commuting by bicycle one night and received a $115.00 citation for "impeding traffic." He reached out to me to represent him. I agreed, but assumed that my work would involve no more than a phone call to the City Attorney's Office. Instead, the City Attorney decided to aggressively pursue what it viewed as a violation of the law and assigned two attorneys to the case. We actually had a full-blown trial with a judge who in chambers seemed to be somewhat annoyed with the cyclists he encountered on the way to work each morning. However, to the judge's credit, he kept an open mind and fairly applied the law to the facts of John's case. In the end, the judge ruled that John had not violated any law. In fact, he commented that he did not believe that the statute making it illegal for people to obstruct traffic was intended to apply to bicyclists, since they are considered part of traffic. The case is of considerable interest to cyclists in Michigan, because it is the only known case where a judge has actually ruled on whether or not the impeding traffic statute applies to a bicyclist. An article summarizing the case entitled, "Riding a Bike is Not a Crime," which appears on the League of Michigan Bicyclists' website, has received over 36,000 hits. Spending time with John, preparing for the case, and celebrating following the case taught me that there is much more that I can, and should, do as a member of the cycling public. As a result, I began volunteering my time to help the League of Michigan Bicyclists with their analysis of legislation and lobb[y]ing efforts.
(Note: Bryan Waldman received the League of Michigan Bicyclists' "Advocate of the Year" award at its 2013 Annual Meeting and Awards Ceremony- Bob).
Bob: One of the things that distinguishes the lawyers in the Bike Law network is that we are all cyclists ourselves. Can you tell me about your interest in bicycling? How long have you been riding? What kind of riding do you do?
Bryan: I started riding a bicycle as a way to get back in shape after I completed law school. I soon learned the joy of group riding and was envious of those who raced on weekends. Unfortunately, due to the demands of being a young lawyer and father, I simply didn't have the time available to train and race. Now that my son and daughter are older, I have been able to start racing. I am what they call a "Masters" racer, which is a nice way of saying "old guy." I try to do all types of racing, including road races and criteriums. However, my favorite discipline is cyclocross. Aside from enjoying the racing, I enjoy the camaraderie and sense of community that exists, for some reason I don't fully understand, among cyclocross racers. I also enjoy slower lazy rides with friends and family, and some of my most relaxing rides are early morning commutes to work.
Bob: Yes, many times the stress of life and work can take their toll, and a few hours of pedaling is quite meditative. A good hard ride can bring some balance into your system. Thanks for  talking about the great bicycle advocacy work being done in Michigan, Bryan, and I look forward to you keeping us all up to date with new developments as they arise.