With the recent local pedestrian accidents and hit-and-runs, here are a few tips to keep in mind whether you walk or drive.
In the past week, there have unfortunately been a number of local pedestrian accidents in the Mid-Michigan area – a number of them have even been hit-and-run incidents, and some have involved children either walking to school or, during this past weekend, trick-or-treating on Halloween.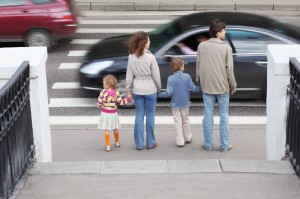 Daylight savings also ended this weekend, it's becoming darker much earlier, requiring us to be especially mindful of our surroundings as we become accustomed to the changes that come with this time of year. In addition, with our unseasonably (yet welcome) warm temperatures outside, we're continuing to see people walking, running, and biking in our communities. With this in mind, we have compiled a few tips for both drivers and pedestrians to consider when out and about.
Both motorists and pedestrians need to be mindful of their surroundings at all times. For motorists, this means:
Limiting distractors that take your focus away from driving, including cell phone use (i.e., talking, texting, or taking photos);
Remembering to stay off of social media, including Facebook, Twitter, Instagram, Snapchat, and the like;
If you are driving early in the morning, watching out for children at bus stops and those walking to school; and
Making sure you understand your rights and responsibilities when driving around school buses.
Pedestrians, like motorists, also need to exercise caution when walking. Ways in which you can keep yourself safe as you walk to work, school, or any other destination include the following:
Wearing brightly colored and/or reflective gear, especially when it is dark outside;
Crossing at the designated area, i.e., a crosswalk – remember jaywalking is dangerous and against the law;
Avoiding headphone use, which may limit your ability to hear what is going on around you;
Limiting cell phone use – as with motorists, your focus should be on getting to your destination safely, and being fully aware of your surroundings is imperative to that; and
Remembering to ALWAYS look both ways before crossing the street – while pedestrians and other traffic have the right of way if lawfully within a crosswalk or at an intersection (MCL 257.612), sometimes you can't rely on the assumption that a driver has seen you and will slow down or stop accordingly.
At the end of the day, we all just want to get to our destinations as safely as possible. Let's all do our part to make sure that happens.