Grand Rapids car accident attorneys George Sinas and Tom Sinas continue to grow our firm's Grand Rapids office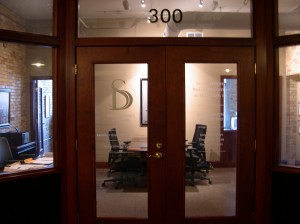 You may recall that we opened an office in the heart of Downtown Grand Rapids last summer, in order to better serve our clients in West Michigan, as well as help educate those residents about both the provisions of Michigan's no-fault law and the concerted efforts being made to dismantle it. Currently headed by Grand Rapids car accident attorneys George Sinas and Tom Sinas, our Grand Rapids office, located at 15 Ionia Avenue SW, has been thriving and continues to grow every day.
Last week, the firm was profiled by the Grand Rapids Business Journal, highlighting the history of the firm and the decision to strengthen its relationship with the Grand Rapids area and West Michigan as a whole. Tom Sinas grew up in mid-Michigan, but moved away to practice law in Minnesota. After practicing in Minnesota for a number of years, both as a personal injury attorney and as a prosecutor, Tom decided he wanted to be closer to his family in Michigan. Coincidentally, George had been thinking about expanding westward (the firm's main office is in Lansing) for some time, making Tom's decision to move back come at an opportune moment. The firm already served clients throughout the state of Michigan, but opening an office in the West Michigan seemed like the logical next step. In addition, Tom was excited about the chance to practice law with his brother, Steve Sinas. The Sinas Dramis Law Firm was Tom and Steve's grandfather, Thomas G. Sinas, in 1951.
In addition to better serving clients with this new location, the location gives the firm a chance to interact more closely with the Grand Rapids medical community – something that ties in to George's efforts as General Counsel for the Coalition to Protect Auto No-Fault (CPAN). CPAN was born after a number of medical and consumer groups from different sides of the political spectrum came together upon realizing that they shared a common goal – the protection and preservation of Michigan's unique auto no-fault system. As General Counsel, George has served as a key advocate for this goal, fighting both inside and outside of the courtroom to ensure that Michiganders are able to continue to benefit from the system that as consistently come under attack in both the courts and in the legislature.
Our Grand Rapids practice has already made a name for itself, becoming involved in the Grand Rapids legal community and reaching out to the local community. In fact, our firm, in conjunction with the Brain Injury Association of Michigan, is hosting the first annual "Lids for Kids" Bike Helmet Giveaway and Bike Safety Event, on Saturday, June 14, 2014 from 10:00 a.m. to 12:00 noon at Garfield Park in Grand Rapids. The goal of "Lids for Kids" is to promote and advocate for bicycle safety by fitting and giving away bike helmets for school-aged children. Over the years, over 5,000 helmets have been given away in the Lansing area, and we hope to keep up that tradition in the Grand Rapids area.
All in all, we are very excited about our new location, and look forward to continuing to serve West Michigan!