The Grand Rapids bike helmet event is Saturday, June 10, 2017.
Our Lids for Kids bike helmet event is rolling into Grand Rapids on Saturday, June 10, 2017 at Garfield Park. 
The Grand Rapids bike helmet even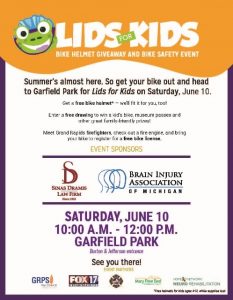 t is the final program for 2017, and follows last month's bike helmet giveaway in Lansing and bike helmet giveaway in Traverse City.
On Saturday, June 10, families can come to Garfield Park (Burton & Jefferson entrance) and kids can get a free, custom-fitted helmet. Children who attend will also have a chance to win a new bicycle, in addition to other prizes donated by local businesses and organizations. Anyone who brings their bicycle can also get a free bike license, and local firefighters will be present to give fire engine tours.
Why is it important to wear a properly fitted helmet? Because when a helmet fits correctly, it goes even further to help prevent a bike accident injury, especially a brain injury. Research shows that most bike-accident brain injuries could have been prevented by wearing a properly fitted helmet.
The Sinas Dramis Law Firm is proud to say that, since Lids for Kids first began in Lansing in 2003, more than 8,000 bike helmets have been distributed to children across Michigan, helping to keep them protected from a bike-related head injury.
Why do we give away bike helmets? Because Sinas Dramis has a longstanding commitment to promoting bicycle safety. As a Grand Rapids personal injury law firm that helps injured people, we know how important it is to put safety first, especially the safety of our children. Our Michigan personal injury attorneys have, unfortunately, seen cases where kids have sustained severe brain injuries simply because they were not wearing a bike helmet or were wearing a helmet that didn't fit them properly. On the other hand, our lawyers have also witnessed instances where children's lives have been saved and the injuries have been less severe because children were wearing a properly fitted bike helmet.
In keeping with our tradition of promoting bicycle safety, Sinas Dramis held the first Grand Rapids bike helmet event in 2014. Along with our generous co-sponsors and community partners, each year we are able to fit hundreds of children with free bicycle helmets, just in time for summer riding.
For more information on the Grand Rapids bike helmet event, please visit the Lids for Kids website. If you have additional questions, please contact Teri Lynne by email or at 517-394-7500.