Car crashes are a leading cause of death for children ages 1 to 13. In fact, more than 70 percent of child car seats are improperly installed, leaving our youngest passengers with little protection in a Michigan auto accident.
Many child passenger deaths and car accident injuries in Michigan can be prevented by the proper use of car and booster seats, as well as the use of seat belts for older child passengers. Studies show that properly restrained children have a more than 50 percent greater chance of surviving a car crash.
Child Passenger Rules
The rules in Michigan for keeping child passengers safe can be a bit confusing. Here are the basics.
Children ages 4 and younger must be in a car seat that's installed in the back seat.
If there is no back seat or the back seat is being used by other children under 4, a child may ride rear-facing in the front seat, as long as the airbag is turned off.
A child must be in a rear-facing car seat in the back seat from birth until age 2, and a forward-facing car seat in the back seat from ages 2-4.
Children who are too old for a car seat must use a booster seat that's installed in the back seat.
A booster seat is required until a child is age 8 or taller than 4 feet 9 inches tall, whichever comes first. When one of these milestones is reached, the child can ride without a booster seat, still in the back seat, buckled up at all times.
In this video, Grand Rapids personal injury attorney Tom Sinas talks about Michigan's child car seat laws.
That's not all. Children are actually the safest when a car or booster seat is installed in the middle of the back seat. And when you're buying a seat, be sure it fits the age, weight and height of the child. Also, do not buy a second-hand car seat from a friend or at a garage sale because: 1) it may be damaged and not work properly, 2) it may have missing parts or 3) it may not include the instructions for proper installation.
How old should a child be to ride in the front seat of a vehicle? Most organizations recommend that children age 13 and older may ride in the front seat, buckled up at all times. All passengers under 16 years old must use a seat belt in any seating position and all front seat occupants must use a seat belt, regardless of their age.
Another important point to remember: children should never ride on another person's lap, in a portable crib or in any device that's not approved for use in a vehicle. Click here for more information on properly using car seats and booster seats.

Installing A Seat

Installing a car or booster seat can sometimes be a challenge. Be sure to follow the instruction manual that came with the seat you purchased. Here are some general tips.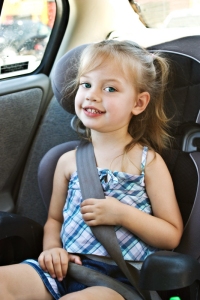 When installed, a seat should not move more than 1 inch from side to side or from front to back.
The harness straps should fit snugly to the child's body and the chest clip should be positioned at the child's armpits.
Rear-facing car seats should be installed so the child's head lies back in the seat without falling forward.
If you're having trouble installing a car or booster seat, many local police departments, fire departments, and public health departments have persons on staff who are trained to help. Click here to find this service in your area.
Another good idea is to place a "child identification sticker" on the car or booster seat. The sticker provides crucial details about the child, in case of an auto accident. The stickers can be ordered at www.Michigan.gov/carseats.
Penalties
Just like any other traffic violation, a person can be issued a ticket under the Michigan Vehicle Code for violating the state's child passenger safety laws. A violation is a civil infraction and the person may be ordered to pay a fine, plus costs and a $40 justice system assessment.
Until recently, a person who violated Michigan's child-passenger safety laws could avoid paying any fine by obtaining a car seat and showing it to the court. If a seat was presented to the court, the judge was required to waive the fine. Apparently, however, some people were avoiding the fine by temporarily obtaining a car seat, showing it to the court and then returning it to the rightful owner or to the retailer.
That changed in 2013. Now, the Michigan Vehicle Code gives trial court judges the discretion whether to waive the fine. That's right — the judge is no longer obligated to discharge any fine when a car seat is presented to the court.
If you or a loved one has been hurt in an accident and need legal assistance, contact our experienced Lansing car accident lawyers or Grand Rapids auto accident attorneys for a free consultation.