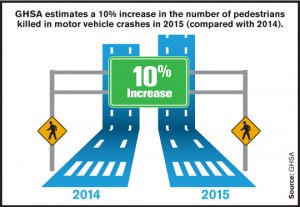 Remember when your mother told you to be careful crossing the street? This advice rings true now more than ever, in light of a new federal report that says pedestrian deaths are increasing nationwide at a startling rate.
According to the Governors Highway Safety Administration (GHSA), nearly 2,400 pedestrians were killed in the United States during the first half of 2015. This is a 10 percent increase over the same time period in 2014. When all the numbers are compiled, the GHSA says 2015 will see the largest year-to-year surge in pedestrian fatalities since national record-keeping began in 1975.
Twenty six states and the District of Columbia had a greater number of pedestrian deaths during the first six months of 2015. Meanwhile, 21 states reported decreases in pedestrian fatalities throughout early 2015, including Michigan, which had 9 percent fewer pedestrian deaths.
Another unnerving statistic is that pedestrians now account for 15 percent of all vehicle crash-related deaths. Ten years ago, this figure was 11 percent.
The report suggests the increase in pedestrian fatalities can be attributed to several factors, including:
More people are traveling by motor vehicle, due to a better economy and lower gas prices.
More walkers and drivers are using – and being distracted by – cell phones.
Although today's vehicles are more "crashworthy," pedestrians are still just as susceptible to injury.
An increasing number of people are walking for health, economic, or environmental reasons.
What factors contribute to pedestrian fatalities? The top ones are: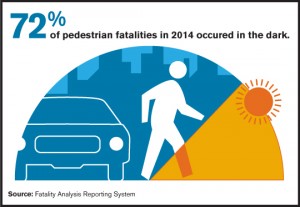 Time of day – most pedestrian deaths occur after dark.
Alcohol – about half of pedestrian fatalities involve alcohol (either the driver or the walker).
Age – pedestrian deaths are higher for people age 70 and older.
Junction type – most pedestrian fatalities happen at non-intersection locations.
In the meantime, states are implementing various strategies to help reduce pedestrian deaths. Currently, Michigan is addressing pedestrian safety in several ways, including a statewide analysis of pedestrian and bicyclist crashes. The analysis, conducted by Western Michigan University, is looking at crash causation, best practices, and countermeasures to help decrease fatalities and injuries.