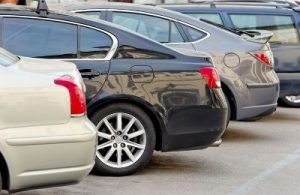 Retail stores and shopping malls are busier than ever this time of year. The barrage of holiday shoppers also brings with it impatient drivers and congested parking lots, which means you have a greater chance of being in a parking lot car accident.
In fact, one in five auto accidents happens in a parking lot. According to the National Safety Council, as many as two-thirds of drivers are distracted when they're pulling into a parking lot. The leading cause of these distracted driving accidents? You guessed it: cell phones.
Parking Lot Car Accident: When The Other Driver Is Unknown
In the unfortunate situation where your vehicle has been hit and the responsible party has not left a note (i.e., a hit-and-run), remember that the store and/or the parking lot owner are not responsible for the damage to your automobile.
The first thing to do is find out if you have collision coverage through your auto insurance policy. Contact your no-fault insurer and see if the damage is covered. It's often recommended, however, that relatively minor repairs be paid out of your own pocket, so your insurance rates don't spike.
Also, keep in mind that shopping malls and retail stores typically have cameras in their parking lots. So, it is a good idea to check with security, to see if there is footage of the vehicle hitting your car. This way, you may be able to get the vehicle's license plate number and identify the driver who struck your car.
Car Accident In A Parking Lot: When The Drivers Are Known
When two vehicles collide in a parking lot, the first thing to do is determine whether anyone is injured. If someone has suffered an injury, emergency responders should be immediately contacted.
Once any first responders have been reached, you should take pictures of the vehicle damage. You should also exchange information with the other driver, making sure to document the following:
date, time and location of the parking lot car accident.
names, addresses, phone numbers and email addresses of the other driver, any passengers, and witnesses.
all driver's license numbers.
make, model and license plate number of the other vehicle involved.
other driver's insurance company and policy number.
Even if the collision is minor and no one appears to be injured, you should protect your legal rights by calling the police and filing a Michigan car accident report. If you don't notify law enforcement and any issues arise down the road, then it's your word against the other driver's. For example, a sore neck or another seemingly innocuous injury on the day of the collision may worsen over time. (Note: some law enforcement agencies will not respond to accidents on private property, especially if no one is injured.)
Also, keep in mind that a police report must be filed when a Michigan car accident results in personal injury, death or vehicle damage of more than $1,000.
Insurance And Damages For A Parking Lot Car Accident
Can you get Michigan no-fault benefits for injuries sustained in a parking lot car accident? The answer is yes, as long as a motor vehicle (as defined by the No-Fault Act) was involved. For purposes of claiming no-fault benefits, it doesn't matter whether the accident happened on a public highway or in a private parking lot.
Be aware, however, of the "parked vehicle exception." Under this provision, a person injured in a Michigan car accident may be entitled to no-fault PIP benefits only when a vehicle is improperly parked and creates an unreasonable risk of injury. This exception can be tricky, which is why an experienced Michigan auto accident attorney should be contacted to determine whether it applies.
In addition, you may be able to bring a claim against the at-fault driver for your car accident injury damages that aren't covered by no-fault insurance. This is often referred to as an auto negligence claim. Strict requirements must be met in order to file an auto negligence lawsuit.
What about the damage to your vehicle? Michigan has what is called a "mini-tort" law that allows drivers in minor crashes to sue and recover up to $1,000 for vehicle damage, as long as the automobile is properly insured. Note that, if you want to file a claim under the mini-tort law, you will need a copy of your Michigan accident report.
Keep in mind, however, that damage to an unoccupied, parked vehicle is not covered under the mini-tort law. Also, certain conditions must be met for the law to apply:
the other driver must have been at least 50 percent at fault.
if your auto insurance policy includes collision coverage and you don't have to pay a deductible before costs are covered, then you may not sue under the mini-tort law.
if your auto insurance policy does not include collision coverage, then you may sue for damages under the mini-tort law (keeping all other prerequisites in mind).
Remember: the mini-tort law covers only vehicle damage. It does not cover any personal injuries sustained in the collision.
In this video, Grand Rapids car accident lawyer Tom Sinas talks about the mini-tort law and the steps you should take if you're in a Michigan parking lot car accident.
Tips For Avoiding A Parking Lot Car Accident In Michigan
So, what can you do to prevent a parking lot car accident from happening? Here are some suggestions:
drive slowly in parking lots.
constantly scan your surroundings – watch for vehicles and pedestrians cutting across parking lanes.
use your turn signals when taking a parking space.
be mindful of how much space you're leaving the vehicle(s) beside you.
do not park in a compact space if you don't have a compact car.
before backing out of a parking space, turn your head to visually make sure it's clear – don't just rely on your rear-view mirrors and side mirrors.
If you've been injured in a Michigan parking lot accident and have questions about your insurance benefits or your legal rights, our Lansing car accident lawyers and Grand Rapids auto accident attorneys are here to help. Contact us today for a free initial consultation.