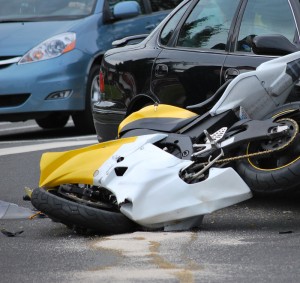 Deaths on motorcycles in Michigan last year climbed a staggering 23 percent over 2014, according to a new report from the Governors Highway Safety Association (GHSA).
And across the United States, motorcycle deaths in 2015 surged 10 percent over motorcycle fatalities in 2014.
According to data provided by state highway safety offices to the GHSA, more than 5,000 people were killed nationwide riding motorcycles in 2015, representing an additional 450 deaths over 2014.
Notably, it's only the third year in history — and the first time since 2008 — when the number of motorcycle deaths topped 5,000.
Regarding Michigan's disturbing 23 percent motorcycle fatality rate, state officials point to the repeal of Michigan's all rider helmet law in 2012, saying it has contributed to the increase in deaths due to fewer motorcycle riders now wearing protective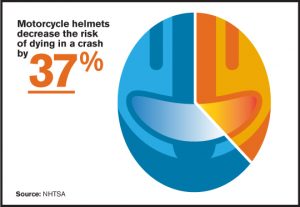 head gear. Studies show that motorcycle helmets decrease the chance of dying in a motorcycle crash by 37 percent.
The GHSA's sixth annual report, Motorcyclist Traffic Fatalities by State: 2015 Preliminary Data, indicates that motorcycle fatalities increased in 31 states, decreased in 16 states and remained the same in three states plus the District of Columbia.
Currently, 19 states and Washington, D.C. require that all motorcycle riders wear a helmet. Another 28 states mandate helmets on motorcycle riders younger than age 18 or 21, and three states have no motorcycle helmet requirement at all. A recent study by the National Highway Traffic Safety Administration (NHTSA) shows the use rate of helmets in universal law states is 89 percent, compared with 48 percent in all other states.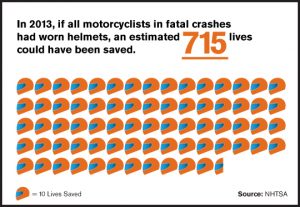 According to the GHSA, motorcycle fatalities can be reduced by restoring helmet laws that cover all motorcyclists in the 31 states that currently do not have them. The GHSA notes that even in states with helmet laws, not all the laws specify that helmets must comply with U.S. Department of Transportation (USDOT) standards.
To help reduced the risk of injury or death, the GHSA encourages motorcycle riders to do the following:
Wear a USDOT-compliant motorcycle helmet, even when not required by state law.
Wear bright-colored clothing to make it easier for other drivers to see you on the motorcycle.
Do not ride a motorcycle while impaired by alcohol or drugs.
Obey posted speed limits.
When purchasing a motorcycle, choose one with anti-lock brakes, which have been shown to decrease fatal motorcycle crashes by preventing the motorcycle wheels from locking and assisting with the stability of the motorcycle.
And of course, operators of other motor vehicles should always be aware of, and look out for, motorcycles.
Contact a Grand Rapids motorcycle accident lawyer, or get in touch with an attorney at any of the Sinas Dramis locations throughout Michigan including motorcycle accident attorneys in Lansing.