Sinas Dramis Law Firm and BIAMI hosted first annual Grand Rapids Lids for Kids event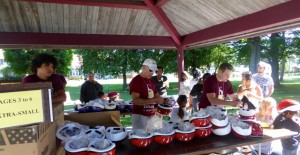 On June 14, 414 Grand Rapids children celebrated the start of summer with new, free bike helmets, courtesy of the Sinas Dramis Law Firm. The first annual Grand Rapids Lids for Kids event  was sponsored by the Sinas Dramis Law Firm and the Brain Injury Association of Michigan (BIAMI) and held at beautiful Garfield Park in Grand Rapids. The goal of the event was to prevent brain injuries in children by fitting as many kids with bike helmets as possible.
The event drew families from all around the Grand Rapids area, representing over 85 schools and daycares. Volunteers from the Grand Rapids medical community worked alongside members of the Sinas Dramis Law Firm and the BIAMI to fit children as young as toddlers and as old as 12. Fox 17 News anchor Christian Frank kept the fun going all morning, raffling off free bikes, passes to Grand Rapids museums, and gift certificates donated by local businesses. The Grand Rapids Fire Department also stopped by, giving kids a chance to explore a fire truck and get a free bike license. Families also got a chance to connect with local leaders, thanks to visits from Representative Winnie Brinks, Grand Rapids City Commissioner Rosalynn Bliss, and Grand Rapids Public Schools Superintendent Teresa Weatherall Neal.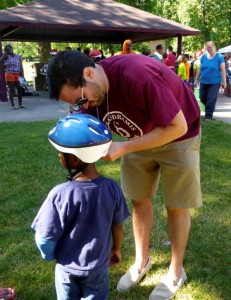 Lids for Kids grew out of the Sinas Dramis Law Firm's long-standing bike helmet program in Lansing. That program has given away more than 5,000 bike helmet to Lansing children over the past 12 years. "With the opening of our Grand Rapids office, we wanted to bring to West Michigan children our firm's commitment to brain injury prevention," said Grand Rapids personal injury attorney Tom Sinas. "We are so happy to have the Brain Injury Association of Michigan, Fox 17, the Grand Rapids Fire Department, and GRPS join us in this effort."
The statistics show that bike helmets are extraordinarily effective in preventing serious injuries in children. According to the Children's Safety Network, bike helmets prevent 60% of fatal bike injuries and 85% of non-fatal injuries. And although only 15% of kids have bike helmets, 85% of kids who have a helmet wear it. "The research is clear," Sinas said. "Give kids bike helmets, and they will wear them, and that will dramatically reduce their chance of a serious injury."
"This took a lot of work by many people, but we had a lot of fun, too," Sinas observed. "And if we prevented one brain injury, then it was all worth it."
For more information about bike safety and the Lids for Kids program, please visit www.lidsforkidsgr.org. Planning for the 2015 event is already underway.