By James F. Graves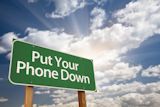 Auto accidents are the leading cause of death for teens ages 15 to 19. According to the U.S. Department of Transportation, more than 3,000 people were killed in accidents involving a distracted driver in 2010. Surveys of teens show that more than 25% read or send at least one text message every time they drive. 54% of teens surveyed use handheld cell phones while driving. Tragically, distraction from driving contributes to many accidents involving young drivers.
On January 8, 2013, Governor Rick Snyder signed legislation prohibiting cell phone use by new drivers. The legislation bans the use of cell phones for holders of Level 1 licenses, who must be accompanied by a parent, guardian or another licensed driver at least 21 years old. The new law also applies to teen drivers with Level 2 licenses, who can drive alone with some limits on hours and carrying young passengers.
Under the new law, a teen caught using a cell phone while driving is subject to a civil infraction but no points will be assigned to the driver's record. Drivers using a vehicle's integrated hands-free phone system or using cell phones to report an emergency are not subject to the new ban.
The new law is commonly referred to as Kelsey's Law after a Sault Ste. Marie teen who died tragically in a cell phone related automobile crash in 2010.