Michigan Motorcycle Accident Attorneys
Drivers of automobiles in Michigan have a responsibility to share the road with motorcycles and to exercise a reasonable level of care toward motorcyclists. Laws are in place to prevent injuries and deaths caused by a motorcycle accident. A Michigan motorcycle accident attorney can help victims obtain compensation for their injuries, lost property and other damages.
Our Michigan motorcycle accident attorneys are here for you. From Lansing to Grand Rapids to Dearborn Heights to Flint, our motorcycle accident attorneys work across the state of Michigan to help victims and families involved in a motorcycle accident.
Have You Been Injured in a Motorcycle Accident in Michigan?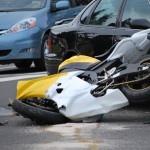 Motorcycle accidents and injuries can be caused by a number of factors. Some of these include:
defective roadways
weather conditions
product defects
recklessness or negligence of other drivers
not hearing or seeing oncoming traffic
Because motorcycles do not offer the physical protection that cars do, motorcycle riders are more susceptible to injuries, such as traumatic brain injuries (TBIs), broken limbs, road rash and other serious conditions. Tragically, some motorcycle accidents result in death.
If you've been in a motorcycle accident in Michigan and are unsure of your next step, please contact our Michigan motorcycle accident attorneys. We will review your claim, at no cost to you, to determine if we can help.