We're all deeply mo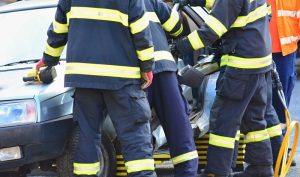 ved when a first responder is injured or killed in the line of duty. When tragic events like this happen, we need to remember that first responders injured in auto accidents have the same rights as ordinary citizens. In other words, first responders are entitled to Michigan no-fault benefits.
Typically, people think of these tragedies as being covered by workers' compensation laws because the first responder was working when injured or killed in the accident. While it is true that the workers' compensation system plays a role, the Michigan no-fault insurance system also comes into play.
When first responders in Michigan are injured by a motorist while working, they are entitled to no-fault personal injury protection (PIP) benefits. If they are killed, their families are entitled to no-fault survivor's loss benefits. Oftentimes, these no-fault benefits are better than those available through the workers' compensation system.
Unfortunately, it has become increasingly difficult in recent years for persons injured on the job to prevail in workers' compensation cases. This makes the auto no-fault rights of police, fire and EMS personnel even more important.
In addition to rights under the no-fault law, first responders injured due to another person's negligence (i.e., a motorist) may also be able to file an auto negligence claim, seeking car accident damages against the driver who struck them. There may also be claims for uninsured motorist benefits  or underinsured motorist coverage. These are all extremely complex claims that need to be carefully reviewed by an experienced Michigan auto accident attorney.
In this video, Grand Rapids personal injury lawyer Tom Sinas talks about Michigan's "move over" law, which requires that motorists "move and slow down" for first responders.
If you're a first responder who was injured while working, our attorneys are here to answer your questions. With decades of experience handling personal injury and auto no-fault claims, our lawyers can help get you the compensation that you deserve. Contact our Grand Rapids auto accident attorneys or Lansing car accident lawyers today.
[button url="https://sinasdramis.com/contact-sinas-dramis-law-firm" class="button" size="small" color="royal-blue" target="_self" lightbox_content="" lightbox_description=""] Free Consultation [/button]