National Child Passenger Safety Week Is September 17-23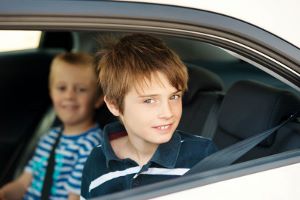 We all want our kids to be safe while riding in a car, whether in the front seat or the rear seat. But when it comes to the seat belt rules for kids riding in the back, Michigan law can be somewhat confusing.
To make matters worse, many people mistakenly believe the rear seat is safer than the front, and so a belt doesn't need to be used in the back. This simply isn't true. A vehicle's rear seat is just as dangerous as the front, especially when a passenger is not wearing a safety belt. A few examples of this are the deaths of Princess Diana and "60 Minutes" reporter Bob Simon. Both were unbuckled and riding in the back seat of a car when they were tragically killed.
In fact, a September 17, 2017 news report about four Michigan children who were not seriously injured in a car crash because they were properly restrained shows how crucial it is for kids to be buckled up in the back seat.
Here are the basic seat belt rules for kids riding as passengers in the rear of a vehicle.
Seat Belt Rules For Kids From Birth To Age 8
Michigan car seat laws say that kids age 0-4 must ride in a properly installed car seat in the back of a vehicle. The car seat must be rear-facing from birth until at least age 2. For children age 2-4, the seat may be forward-facing.
Once a child turns 4, he or she should ride in a properly installed booster seat in the back seat. A booster seat is required until the child reaches age 8 or 4 feet 9 inches tall, whichever comes first. Unfortunately, less than half of 4-to-7-year-olds in Michigan are riding in booster seats, according to a new child passenger safety report from the Michigan State Police.
Why are booster seats so important? Because they help reduce serious injuries in a crash by nearly 50%. Booster seats lift up children, so the safety belt fits securely across their hips and shoulders (the strongest parts of their bodies). When kids age 4-8 aren't riding in a booster seat, the safety belt doesn't fit them comfortably and, in turn, they are more likely to tuck the belt behind their back or under their arm. This can cause significant injuries in a crash, such as internal organ damage or trauma to the neck or head.
If you need help installing a car seat or booster seat, you can get assistance from your local police department, fire department or public health department. In fact, Michigan has a network of more than 1,000 technicians who can help with the proper installation of car and booster seats, and the use of seat belts. If you're wanting help, be sure to not only bring your vehicle, but also the car seat and your child. Car and booster seat checks can take up to 30 minutes. You can find a seat check near you on this list of 2017 Michigan car and booster seat checks.
Seat Belt Rules For Kids Who Are 8-15
The seat belt rules for kids ages 8-15 aren't much different than for younger kids: buckle up, plain and simple. When riding in the back of a vehicle, Michigan law requires that young people in this age range wear a safety belt at all times.
Michigan law, however, seems to suggest that buckling up in the back is not required for those who are age 16 and older. The seat belt law says:
… each operator of a motor vehicle transporting a child 4 years of age or older but less than 16 years of age in a motor vehicle shall secure the child in a properly adjusted and fastened safety belt and seated as required under this section. If the motor vehicle is transporting more children than there are safety belts available for use, all safety belts available in the motor vehicle are being utilized in compliance with this section, and the operator and all front seat passengers comply with subsection (3), the operator of a motor vehicle transporting a child 8 years of age or older but less than 16 years of age for which there is not an available safety belt is in compliance with this subsection if that child is seated in other than the front seat of the motor vehicle."
While the seat belt statute seems to indicate that persons age 16 and over do not have to wear a safety belt, remember that all persons riding in a motor vehicle should buckle up, including back-seat passengers. Why? Because in the event of a crash, those in the rear-seat can be tossed around like rag dolls and even a low-impact collision can cause a serious car accident injury.
Basically, it boils down to this: rear-seat passengers who choose not to wear safety belts are just as susceptible to serious injury as front-seat passengers. So be sure to buckle up in the back seat … no matter what your age.
In this video, Grand Rapids auto accident attorney Tom Sinas explains Michigan's seat belt rules for kids.
If you've been injured in a Michigan car accident or have questions about child passenger safety laws, our Lansing auto accident attorneys and Grand Rapids car accident lawyers are here to help. Contact us today for a free initial consultation.