A roundabout in Ann Arbor was the scene of 170 crashes in 2014, resulting in quite a bit of property damage – that's when Michigan mini-tort law may factor in.
According to data collected by the Michigan State Police (MSP) regarding accidents taking place at various intersections across the state, a roundabout completed in 2013 was the scene for 170 car accidents in Ann Arbor . . . in 2014 alone.  Which one? The one located at State Street and Ellsworth Road. There were only 94 collisions at the intersection with the second highest number of crashes in Ann Arbor – Orchard Lake Road and 12 Mile Road.
The seemingly problematic roundabout connects State Street and Ellsworth Road,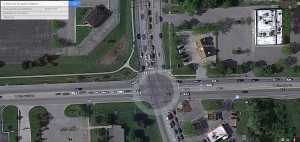 and was the result of a commissioned traffic study. The study showed that based on the amount of traffic that flowed through the area, the intersection, originally a former four-way stoplight junction, needed to change. The roundabout appeared to be the best fit for the area because it allowed more traffic to flow through the area and it caused fewer accidents. Any accidents that did arise in roundabouts were less likely to result in serious personal injury.
Before the roundabout was installed, there were only 16 crashes at the State Street and Ellsworth Road intersection. The roundabout was installed in 2013, and, coincidentally, the number of car crashes at the intersection increased to 62. And then of course, that number jumped even further to 170 auto accidents in 2014 (thankfully, none of them caused serious personal injury to the drivers involved). However, vehicle damage undoubtedly occurred, which is where Michigan Mini-Tort Law may come into play.
Michigan Mini-Tort Law provides individuals whose vehicles have been damaged in auto accidents an opportunity to recoup some of the cost of repair, as long as the vehicle is properly insured under Michigan auto no-fault insurance law. However, in order to recover damages under mini-tort, the driver who caused the crash must have been at least 50% at fault. The party who was not at fault (or was less than 50% at fault) may then sue the other driver for the damage done to the vehicle. There are a few caveats to keep in mind. First, there is a cap: the at-fault driver is liable up to $1,000 in damage. Therefore, if the damage to your vehicle is estimated to be $2,000, the driver can only be held responsible for $1,000. Second, if your auto insurance policy includes collision coverage and you don't have to pay a deductible before your insurance company covers the cost, then you may not sue the other party under the mini-tort law. If your vehicle does not have collision coverage, then you may also sue for damages under mini-tort (keeping the other conditions in mind).
If you wish to file a claim under Michigan mini-tort, you will also need to order a copy of your accident report (UD-10). This will be helpful in documenting your accident. If there are any issues with the accuracy of the report, be sure to contact the law enforcement agency that responded to the crash so the proper amendments can be made. Finally, remember: our mini-tort law only covers vehicle damage. It does not address personal injury resulting from an auto accident.
Do you have additional questions about Michigan mini-tort law or about pursuing your mini-tort claim? Contact our auto accident lawyers in Lansing and Grand Rapids for a free, initial consultation.