No-fault insurance companies typically request that persons injured in a Michigan auto accident undergo what is called an independent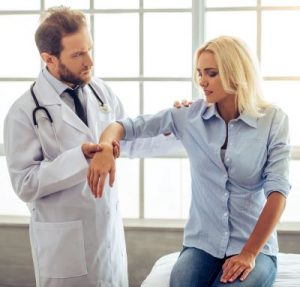 medical exam ("IME").
The No-Fault Act specifically allows for this independent medical examination after a car crash victim files a claim for Michigan no-fault benefits. The law says that, when the mental or physical condition of the claimant (the accident victim) is at issue, the insurance carrier can request that the person be examined by an "independent" physician. The law also says the insurer's right to conduct the exam must be "reasonable."
However, various concerns surround these independent medical exams.
Independent Medical Exam Results Usually Favor The Insurer
If you've been injured in a Michigan car accident and are asked by your no-fault insurer to undergo an independent medical exam, keep these things in mind.
The examination will be conducted by a doctor who is hired by the no-fault insurance company.
The insurance company can send you to any doctor it chooses, including a physician with little or no experience handling the type of injury that you've suffered.
There is little regulation over independent medical exams.
There are no qualification requirements for physicians who perform independent medical exams.
Another critical thing to remember is this: the opinion of a doctor who performs an independent medical exam is frequently biased in favor of the insurance company. Why? Because the physicians who conduct these exams are usually closely aligned with the insurance industry. In fact, some IME doctors do not practice medicine and, instead, have chosen to earn a living by working for insurance companies.
Do Not Ignore An Independent Medical Exam Notice
If you receive a notice from your no-fault insurance company that an independent medical exam has been scheduled, do not ignore it. If you fail to appear at the scheduled exam without justification, your claim for no-fault PIP benefits will be jeopardized.
If you've been notified that you need to undergo an independent medical exam, you should be prepared to explain: 1) your medical history, including any pre-existing conditions; 2) your auto accident injuries and how they happened; and 3) what symptoms keep you from working/keep you from participating in certain daily activities.
After an independent medical exam has been conducted, a report will be issued setting forth the IME doctor's opinion. While this report will frequently favor the insurance company, you have the right to request a copy of it.
Also, keep in mind that the doctor who performed the exam will not provide you any further treatment. Rather, the IME doctor will simply issue the report for the insurance company.
Independent Medical Exams Are Often A Delay Tactic
Unfortunately, insurance companies frequently use independent medical exams as a way to delay the payment of no-fault benefits. In turn, this also delays the crash victim's recovery.
In fact, even if you were receiving no-fault benefits before the independent medical exam was conducted, the examination may result in benefits being cut off, until the dispute is resolved.
Meanwhile, keep in mind that it's not uncommon for the IME doctor's report to contradict the findings and diagnosis of your own physician. If this happens, you can present evidence from your own treating doctor, challenging the IME doctor's report.
When it comes to independent medical exams, Michigan residents deserve better than what is currently being offered. Auto accident victims should be evaluated by doctors who actually treat patients, and not doctors who earn a living performing exams for insurance companies.
In this video, Grand Rapids auto accident attorney Tom Sinas talks about independent medical exams.
If you've been injured in a crash and have questions about your independent medical exam or no-fault benefits, our Lansing auto accident attorneys and Grand Rapids car accident lawyers are here to help. Contact us today for a free initial consultation.