We have previously blogged about Michigan car seat laws and proposed changes to it. We now have another update, but this time on the federal level.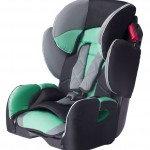 Yesterday, the National Highway Traffic Safety Administration (NHTSA) announced that it was proposing upgrades to the federal child car seat standards. Specifically, the administration wants to ensure that children are well-protected in the event of a side crash. Among the upgrades proposed includes the conducting of side impact tests for car seats sold in the United States that are designed for children who weigh up to 40 pounds. This test would be the first of its kind.
This unique test would simulate what is commonly known as  "t-boning", in that the test vehicle carrying the car seat and the child (dummy), traveling at 15 mph, would be hit from the side by a another test vehicle traveling at 30 mph. Dummies representing both 12 month old and 3 year old children would be used in testing, the 3 year old being a new addition with the proposed upgrade.
The goal of such testing is to ensure that child safety seats can safely restrain a child by preventing harmful head contact with the colliding vehicle, while reducing the amount of force that might be transmitted to a child's head and chest. The NHTSA estimates that the proposed changes would save the lives of five children and prevent an additional 64 injuries per year.
Because this is a proposed rule, there is a 90-day comment period, where members of the public may submit their comments on the rule. Upon review of the comments received, a final rule will be issued. If the upgrades are adopted and a new rule is issued, child safety seat manufacturers would then have three years to make any necessary changes to ensure that the requirements of the new rule are met. A copy of the rule maybe found here.
Although the entire process may take months (a conservative estimate), the fact that movement is being made towards protecting our children from the dangers presented by these side impact collisions is certainly welcome. There has been a steady decline in the deaths of children in car seats, but there is always more that can be done. This rule is a step in the right direction.