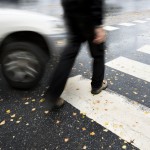 One vital aspect of our Michigan auto no-fault system is that both drivers and pedestrians get no-fault benefits to aid them in their post-car accident care and recovery.  This type of pedestrian no-fault benefit was discussed in a decision by the Michigan Court of Appeals, Wutwut v Farm Bureau. In that case, a 14 year old pedestrian was severely injured by a car while walking home. The Court was asked to determine which no-fault insurer would pay her no-fault benefits – her father's no-fault insurer, her mother's no-fault insurer, or both of her parents' insurers.
Typically, when a pedestrian suffers a Michigan car accident injury, the No-Fault Act provides that the victim must first look to his or her own no-fault insurer. But what if the injured pedestrian is not old enough to drive, and thus would have no reason to have no-fault insurance, as in Wutwut?
The No-Fault Act states that one must then ask whether the injured party was domiciled with a relative who did have no-fault insurance (in Wutwut, the girl's parents).  There, the Court had to  decide was whether the young girl was domiciled with her father at the time of the motor vehicle accident – if so, his no-fault insurance would be responsible for paying at least part of her benefits. However, even if she did not live with a relative at the time of her accident, she still would be entitled to no-fault benefits; as a last resort, her claim would have been assigned to a no-fault insurer through the Michigan Assigned Claims Plan.
As we can see through this case, the beauty of our no-fault system is that some no-fault insurer eventually would have been responsible for this young pedestrian's no-fault benefits and medical care.  This is yet another reason why our system is so important – it gives pedestrians and their families peace of mind, knowing that should the unthinkable happen, they will be protected.