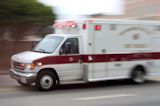 To state the obvious, being in an auto accident is frightening.  In addition, the post-crash environment can be disorienting, with police and EMTs whizzing about, not to mention the continuing presence of traffic.  In a chaotic environment as such, it's hard to self-diagnose whether you have an injury.  Some injuries are immediately apparent.  Others are concealed by adrenaline and shock only to be discovered later after things have settled.  Thus, it seems reasonable (and responsible) that an auto-accident victim accept an ambulance ride to ensure they have not been harmed.
Unfortunately, a recent decision by the Michigan Court of Appeals, House v Farm Bureau Mutual Insurance Company (unpublished decision dated February 5, 2013), makes such a decision much more complicated.
The plaintiff in House was involved in an auto accident and taken by ambulance to a hospital.  It's safe to assume the ambulance ride alone cost $1,000, if not more.
The plaintiff was insured by Farm Bureau.  Farm Bureau took the position that the plaintiff did not suffer any injuries in the collision.  Among other things, Farm Bureau denied the plaintiff's request for reimbursement of the ambulance bill.
The case went to trial and the jury found that the plaintiff had not suffered bodily injury in the accident.  In response, the plaintiff's lawyer asked the trial court to still require Farm Bureau to pay for the ambulance bill (a legal move called a motion for "judgment notwithstanding the verdict").  But the trial court and the court of appeals rejected plaintiff's motion stating that the jury must first find that the individual suffered an injury in the accident before the person can be reimbursed for an ambulance bill.
The difficulty posed by this decision is that it places an auto accident victim in a predicament: if they accept an ambulance ride to the hospital and it turns out nothing is wrong, they're stuck with the ambulance bill (and probably the hospital bill too).  This unfairly forces people to play doctor on the spot, to self-diagnose in a short period of time whether or not they need medical treatment – something that should be left to medical professionals.