Michigan Truck Accident Tips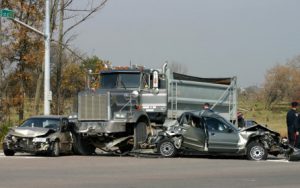 Being involved in an accident with a large truck, whether it be a dump truck, tractor-trailer, or 18-wheeler can be a traumatic experience. In the event you find yourself in such a situation, these truck accident tips may be helpful:
Stay calm.
Call police/law enforcement to alert them to the accident. If you or anyone else has been injured, call for an ambulance.
If it is possible to move your car out of the roadway, try to do so safely.
Document all injuries, aches, and pains you might be experiencing at the time, even if you think they are minor.
Write down as much information as possible. Items to note include the following:

All injuries, pains, etc., that you and your passengers are experiencing,
The exact location of the accident,
Time, weather conditions, direction vehicles were traveling at the time of the accident,
A description of how the accident occurred,
License plate numbers of all vehicles involved in the accident,
Description of the damage sustained to each vehicle involved in the accident,
Statements made by other drivers admitting responsibility for the crash,
Statements made by other drivers or passengers stating that they were not injured as a result of the accident,
Name, badge number, phone number of all police officers/law enforcement officers who arrive at the scene,
Name, address, phone number, driver's license number, and insurance information of all other drivers involved in the accident,
Names, addresses, and phone numbers of all witnesses who observed the accident and/or arrived at the scene of the accident, and
Observations as to whether drugs and/or alcohol contributed to the accident.

Take photographs of the accident scene (if you can do so safely). Try to include the following in your documentation of the accident scene:

Vehicle damage,
Injured drivers/passengers,
Skid marks on the roadway, and
Roadway or intersection where the accident took place.

Cooperate with law enforcement, but do not accept responsibility without first consulting an attorney.
Do not blame others for the accident.
Do not leave the scene of the accident until other drivers and law enforcement have left the scene (unless you are being transported in an ambulance).
Again, these are just suggestions to keep in mind should you ever be involved in a Michigan truck accident. Because there are both federal and state regulations that govern the operation of these large trucks, trying to pursue a claim on your own may become overwhelming very quickly. Therefore, it may be helpful to consult with a knowledgeable team of Michigan truck accident attorneys who understand exactly what is at stake with these claims.