Our Lansing Auto Accident Lawyers
The Lansing auto accident attorneys at the Sinas Dramis Law Firm have been representing persons injured in a Michigan car accident since 1951. Our experienced lawyers are dedicated to helping individuals, their families and their medical providers navigate Michigan's auto no-fault system.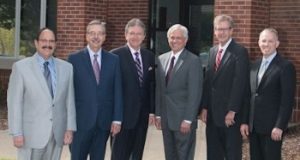 For more than 60 years, our Lansing car accident lawyers have proudly served the mid-Michigan area. Our office is located at 3380 Pine Tree Road, just minutes away from downtown Lansing, Okemos and East Lansing. This convenient location, right off I-96 and US-127, allows us to assist persons from all across Michigan.
Lansing Auto Accident Attorneys
Our car accident lawyers in Lansing have decades of experience handling motor vehicle, semi-truck, motorcycle, bicycle and other no-fault related cases.
Since the No-Fault Act was enacted in 1973, our team of attorneys, led by Lansing attorney George T. Sinas, have been at the forefront of the ever-changing landscape of Michigan auto no-fault law. The knowledge, expertise and skill of our Michigan auto accident attorneys have well served not only our clients, but residents across the state of Michigan.
If you've been injured in a car crash and need legal help, or if you have questions about the auto no-fault system, including how to file a claim for benefits or how your rights may be affected, contact our Michigan auto accident lawyers today for a free consultation.
Helpful Resources
The following resources may be helpful if you travel in the Lansing area or if you've been involved in a car accident. If you have questions, please contact our office.
More Resources For Car Accident Victims In Lansing, Michigan