The Sinas Dramis Auto No-Fault Team
Michigan auto accident attorneys helping people since 1951
For more than 60  years, the car accident lawyers at the Sinas Dramis Law Firm have fought for the rights of persons injured in automobile crashes, motorcycle accidents, semi-truck crashes, bicycle accidents and other types of accidents.
The auto accident attorneys at the Sinas Dramis Law Firm, which has offices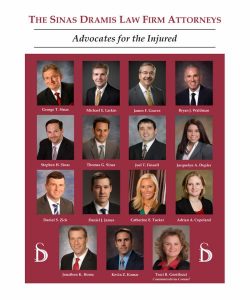 in Lansing and Grand Rapids, represent accident victims from all parts of Michigan.
Led by George T. Sinas, who is considered one of the leading experts in Michigan auto no-fault law, our team of experienced car accident attorneys is dedicated to representing you and your interests — not those of any insurance company. Our auto accident lawyers understand that being in a car crash is often a trying, devastating and life-changing experience.
If you've been injured in an auto accident, you may be wondering what to do next. Fortunately, you do not have to go it alone. The Sinas Dramis auto accident legal team is ready to help you on your road to recovery and will stand by you every step of the way, to make sure you get Michigan no-fault benefits, as well as any other compensation you deserve.
Call our Michigan auto accident lawyers in Lansing and Grand Rapids today for a free consultation. Rest assured … we'll fight for your rights.
---